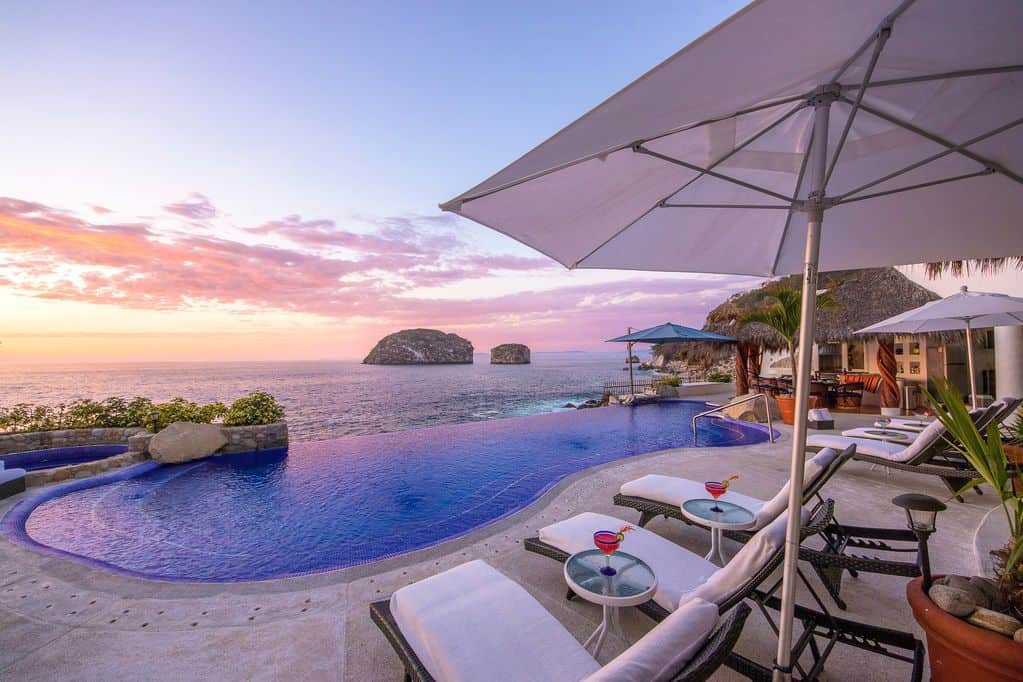 Puerto Vallarta' Newest Oceanfront Villa is available as a Vacation Rental. 
Welcome to the most exquisite and talked about luxury villa on Puerto Vallarta's exclusive south shore. This spectacular, new 8,000 sq. ft. four master suites, private studio with living room, six and a half bath Villa was designed for pure pleasure and comfort. 
Amenities –
6 bedrooms, 8 bathrooms

8000 square feet

Air conditioned

Dramatic 50 ft. heated "infinity pool" and jacuzzi

Outdoor dining, bar and recreation area

Game room with wide-screen TV, movies and games

Gym with ocean view:  Treadmill, Elliptical, Universal and more

Outdoor kitchen with pizza oven

Satellite TV, stereo, garage, security guard, intercom, fax and phone.
The Villa includes a chef, houseman, housekeeper and caretaker who will always greet you with smiles as warm as the Mexican sunshine. The staff is managed by Angela Sanchez, who will greet you upon your arrival and make your stay as comfortable and enjoyable as possible.
Magnificent framed ocean views from every room and terrace.
Sleeping capacity 12 guests, four bedroom suites a private studio for fifth bedroom and a sixth bedroom option.
There are three lavish master suites with king size beds and private terraces. Each suite has an oversize marble bathroom with raised Jacuzzi. Even the stone and marble showers have impressive views.  Fourth lavish master suite offers king size bed, oversize rock shower with sky light above.
Private studio offers a queen bedroom, bathroom and a large sitting area with television.  Fifth bedroom option is in the media room with a queen size bed and its own private bathroom.
Amazing views from your private gym.  Spacious glassed-in living and dining area under a soaring thatched palm roof.
Elegant, contemporary split level design, marble floors with inlaid mosaics of pebbles, sculptured oversized sofas, vivid Mexican colors, carved wooden doors, high ceilings, walk in closets.
Satellite TV, stereo, garage, security guard, intercom, fax and phone.
Effortlessly merging nature and lifestyle, a native cobblestone driveway leads to a stairway descending to rectangular thirty-six foot wide native stone and tile entry, shaded by four existing coconut trees, each from thirty to fifty years old. Cool waters from a blue-tiled fountain cascade before a white-washed wall, highlighting the entry and creating a serene and tranquil ambiance.
Inside Casa San Sebastian two half-century old hiquera (fig) trees form an integral partnership with this split-level residence, their gnarled trunks jutting upward through white marble floors and specifically-wrought ten-foot ceilings. The hiquera's massive umbrella-like limbs structures dominate the angular palapa peak and stand guard over the Puerto Vallarta villa, combining simple shade from the tropical sun with a sense of centuries-old permanence.
Vivid Mexican floral colors, pinks, blues and yellows, have been strategically used to highlight and create interior drama. Such accent colors are favored in this new architectural style because of their affinity with the surrounding environment and because the colors offer a whimsical contrast with the white walls and blue-sky open-aired feel of the palapa.
The architect Alberto Alvarez, a local award winning University of Guadalajara graduate, adopted the Pacific Coast style with grace and ease, and added his own particular creative touch resulting in a dramatic and spectacular residence. Comfort and luxury were always on our minds. The Puerto Vallarta villa provides a happy, relaxed, leisurely setting, a place to recharge, to revitalize. Longtime local interior designer-sculptor Jorge Rubio was selected to combine his talents with those of Alvarez. Rubio contributed an openness to the Puerto Vallarta villa in keeping with the "new palapa" style and completed the striking interior touches as the inclusion of naturally occurring boulders and trees in the structure.
The interior furnishings of the home are a blend of Mexican traditional and modern, again in keeping with the Mexican Pacific Coast style. The award-winning Marta Figueroa, probably Mexico's best known "equipales" (leather and wood furniture) designer, fashioned all of the interior furnishings and Mexican artesian Esperanza Acosta, who is internationally recognized for her woodwork, hand carved the Puerto Vallarta villa's six massive doors.
Nightly Rates –  
**High Season Rates – November 1 – May 31
4BR – $2000/nightly
5BR – $2100/nightly
6BR – $2200/nightly
**Budget Season Rates – June 1 – October 31
4BR – $1600/nightly
5BR – $1700/nightly
6BR – $1800/nightly
**Holiday Rates – Christmas/New Years – 7 night minimum stay
4BR – $2700/nightly
5BR – $2800/nightly
6BR – $2900/nightly
To make a reservation is this stunning Beach front Private Villa in Puerto Vallarta, please give us a call TOLL FREE from the US or Canada to 1-800-616-3841 or +1 52 327 275 0233 or send us an email to Director@GalvanRealEstateandServices.com
We look forward to hearing from you! 
Property Id : 25640
Bedrooms: 6
Bathrooms: 7.5
Property Reviews
You need to
login

in order to post a review
Similar Listings